Passion for growing at heart of Dee and PJ Butuci's Italian Restaurant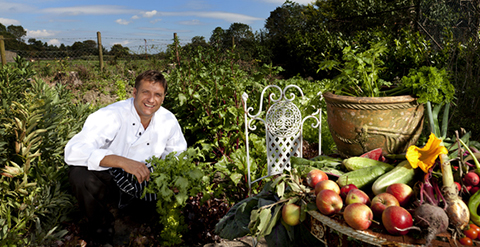 For most restaurateurs, the day starts in the kitchen, preparing ingredients for the busy day ahead. For Dee and PJ Butuci of Toscana Restaurant Dublin it starts in the garden. There are salads and herbs to be harvested, tomatoes to be picked, eggs to be collected and all of the other garden jobs of weeding, feeding the soil and planting the next crop.  Toscana are recipients of the inaugural Good Food Ireland award for Best Grow it Yourself Restaurants in Dublin and throughout Ireland, in partnership with GIY Ireland to recognise restaurants who go the extra mile in linking land to plate in a very real way.
The shortlist included rural country houses Ballyvolane House in north Cork and Rathmullan House in Donegal, as well as the pioneering Ballymaloe Cookery School in Shanagarry.  But intriguingly it also included restaurants in towns and cities including Café Rua in Castlebar, The Yard in Wexford and Restaurant Forty One at Residence on St Stephen's Green.  Visit GFI Website for more details
According to GIY founder Michael Kelly it requires some creativity from the owners or chefs to acquire homegrown food in these circumstances.  "In some cases, the chefs are growing literally in their own homes, and bringing the produce to their Dublin City Centre restaurants.  That's what we wanted to celebrate with this award – those restaurants going the extra mile with what might be considered limited food growing assets.  While 'locally-sourced' is becoming a buzzword in food circles, Toscana and the other Good Food Ireland candidates for this award, are the real deal.  We would like to congratulate them all."
Founder of Good Food Ireland, Margaret Jeffares said: "In 2012 97% of Good Food Ireland businesses increased their purchasing of Irish food an increase of 5% over the previous 3 years 2008 – 2011. This now extends to whole high level movement of growing their own vegetables, herbs, leaves and fruit. It has gone way beyond the pot of herbs on the window sill. The innovation surrounding this initiative greatly adds to the consumer experience and it is only fitting that in Good Food Ireland we wanted to honour this. I am delighted that GIY Ireland partnered with us for the Good Food Ireland Grow it Yourself Award"
In their garden in Co. Wicklow, PJ and Dee grow a wide range of fruit, vegetables and herbs. It is no surprise that tomatoes fill their tunnel for the summer, with many grown from seeds PJ brings back from his trips to Italy. Salad leaves are also important and customers were treated to very generous plates after a bumper crop this summer. Beds of mint fill in any gaps in the garden as PJ also makes his own Creme de Menthe.  Juicy tomatoes may be cut into rings and dried in the sun, or find their way into a chutney. Many of the eggs from their free-roaming flock of hens are used in pasta for some of the filled-pasts dishes, and customers notice the difference. Regulars at the restaurant can check in on Facebook to see what is being harvested and monthly emails include advice on what is in season.
The other finalists in the Grow It Yourself category of the Good Food Ireland awards were:
• Ballymaloe Cookery School, where students learn the value of home-grown ingredients in the extensive gardens.
• Ballyvolane House (Cork). Guests are encouraged to visit the walled garden, and even help out if they would like.
• The Yard (Wexford). A productive garden on the edge of town keeps a constant supply of vegetables and herbs to this busy spot.
• Rathmullan House (Donegal). Fresh seasonal fruits on the breakfast table, straight from the long-established walled garden, remind customers of the freshness and taste of home-grown food.
• Restaurant Forty at Residence (Dublin). According to executive chef Graham Neville the vegetables and herbs from their recently-established garden taste better than anything he could source elsewhere.
• Café Rua (Mayo). Known for local produce, Rua have now gone one step further this year and began growing their own.
For further information on any of the above winners and finalists please visit http://www.goodfoodireland.ie
or please contact: Therese Kennedy, GIY (051 302191) – therese@giyireland.com
Margaret Jeffares, Good Food Ireland 087 6674654
About GIY
GIY's vision is for a healthier, more connected and more sustainable world where people grow their own food. Over 50,000 people and over 800 community food groups and projects are involved in the movement around Ireland. GIY is a registered charity – CHY 18920.  http://www.giyinternational.org/articles/detail/dublins_toscana_restaurant_receives_food_growing_award_from_giy_and_good_fo
About Good Food Ireland
Founded in 2006 by Margaret Jeffares, Good Food Ireland® has initiated the link between the agri-food and tourism sectors by bridging the gap between Irish food produce, to an authentic Irish cuisine. Today Good Food Ireland has some 600 Approved Providers; Ireland's top restaurants and cafes, culinary accommodation, food shops, pubs and bars, cookery schools and food producers committed to a local food philosophy.